Category:
TV
iNostalgia recalls Manchester and Merseyside TV programmes of the 70s and 80s – and the actors who made them so memorable
Read More
Basket
Latest from Facebook
Latest Tweets
⁠Residents in Pendleton, Manchester, 1932 🏠

Manchester Then and Now is the first compilation of the informative and entertaining feature published every Sunday in the Manchester Evening News for the past four years. Pre-order yours here ~ https://t.co/r9OUjycnWI

@mennewsdesk
Twitter feed video.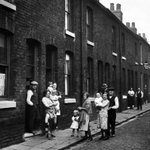 One of King Street's most grandest buildings, @hotelgotham, is the former premises of Midland Bank. It was designed by Edwin Lutyens in 1928 in the Art Deco style of the time.

What are your favourite buildings in Manchester?

📸 MMU Visual Resources & @manc_wanderer
Load More...
Categories
Recent Posts