Category:
History
Salford was at a crossroads when a cameraman flew over the city to produce a remarkable set of aerial photographs in July 1974. Some Victorian terraces still stood in regimented rows, while others were being torn down in the biggest slum clearances Manchester had ever witnessed.
Read More
Basket
Latest from Facebook
Latest Tweets
⁠Residents in Pendleton, Manchester, 1932 🏠

Manchester Then and Now is the first compilation of the informative and entertaining feature published every Sunday in the Manchester Evening News for the past four years. Pre-order yours here ~ https://t.co/r9OUjycnWI

@mennewsdesk
Twitter feed video.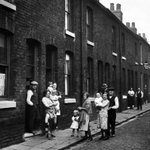 One of King Street's most grandest buildings, @hotelgotham, is the former premises of Midland Bank. It was designed by Edwin Lutyens in 1928 in the Art Deco style of the time.

What are your favourite buildings in Manchester?

📸 MMU Visual Resources & @manc_wanderer
Load More...
Categories
Recent Posts